Creating a safer today for our youth.
16th Annual Race to Save Young Lives
Join us Sunday, October 22nd at Pinstripes in Northbrook, IL
Your partnership enables Elyssa's Mission to continue to provide the programs and resources so urgently needed. Currently we partner with over 300 schools, growing at a rate of 50 new schools a year. With your sponsorship, we will be able to expand our reach even further.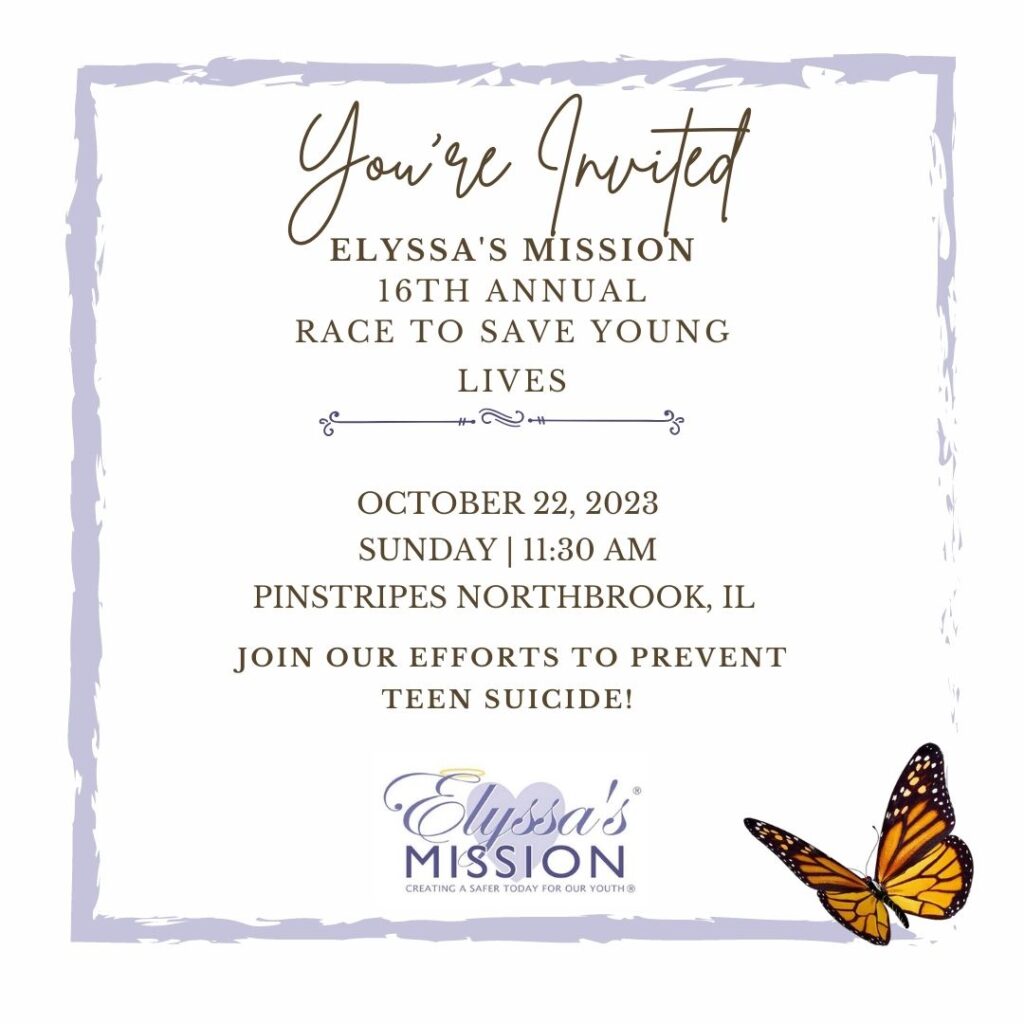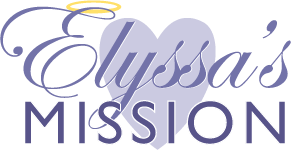 OUR MISSION: SUICIDE PREVENTION
Elyssa's Mission provides resources to help prevent teen suicide.
Take a brief screening to determine if you, or someone you care about, should connect with mental health professional. It is completely anonymous and confidential.
Learn more about our

Signs of Suicide Program.

Hope Squad Program.

Grief Group Program.
Elyssa's Mission funds and implements the evidence-based SOS Signs of Suicide Program in over 300 middle and high schools in Illinois (20+ counties, 120+ suburbs) through our partnership with MindWise Innovations, a Massachusetts-based organization that pioneered the concept of large-scale mental health screening and education programs. We assist with all components of the SOS Program including planning, teaching and training for staff and parents.
SOS Signs of Suicide
Signs of Suicide teaches students how to identify signs of depression and suicide in themselves and their peers.
Hope Squad
A peer-to-peer program that aims to reduce youth suicide through education and peer intervention.

Grief Group
Elyssa's Mission offers a 'postvention' grief group to schools that have suffered the loss of a student by suicide.

"The SOS program helped us to identify a student who was very depressed and for sure under the radar, which was really awesome to see. Thanks for all of your support!"
"Thank you again for coming to our school to help us implement the SOS program!  This is such an important program, and I am so grateful to be able to offer it to our students."
"We always see and feel the benefits of the SOS program. We appreciate the resource, guidance, support and opportunity to continue to work with you."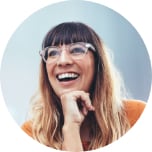 Springman Middle School
"We appreciate your continued support in implementing the SOS program at Plank Junior High School!"
"Thank you for all of your support as we rolled out SOS with Lakeview this year!  I'm so grateful that Elyssa's Mission exists, and so grateful for all of the very important work you all do."
"Thank you so much for all of your help! We are so appreciative of you and this program. It is so helpful to know that all of our kids are identified and have support. With all of the resources you provide, it is so easy to be organized!! "
Ridgewood Student Services Team
"This is such a great program and organized in a way that is easy to implement.  I'm excited to run the program again now that we know what to expect.  Thank you again for all your help!"
Thornton Fractional North High School
"We cannot thank you enough for your support and partnership.  Given the importance of this program, we greatly look forward to the continued partnership with Elyssa's Mission."
"Our three days of the SOS program were a success!  Everything ran smoothly and we are very happy with the overall process."
Minooka Community high School-Central Campus
"Thank you for always being such a great help and resource for our school. We truly appreciate your partnership."
"As always, we are very grateful for our partnership and Elyssa's Mission for all of the support you provide!"
"I am glad we were able to identify and now support students that wouldn't have typically been on our radar!"
River Grove School District
"It is always a pleasure to work with you. Thank you again for all your support!!"
"We absolutely value the SOS program and are committed to continuing it. Thank you for all of your support!"
"Thank you for assisting us through two full days of SOS. We truly appreciate all your help, guidance & assistance/support. It was great having you join us!!! Hope to see you next school year!"
"Thanks so much again for your help on our program days, and for all of the guidance as I brought SOS to Finley! It was a pleasure to work with you."
"So glad to hear that the ACT help-seeking message has stuck with our students. I really enjoyed working with the team and look forward to partnering again in the future. Thank you for your support!"
"Thank you so much for coming out and for all your support and help! I was just putting together some numbers; it looks like overall 36% of our kiddos were flagged from the screener. So it just shows how needed this program is and how much we need to talk about this topic!"