Inspirational Stories & Testimonials
Inspirational Stories & Testimonials
Plainfield Suicide Prevention Walk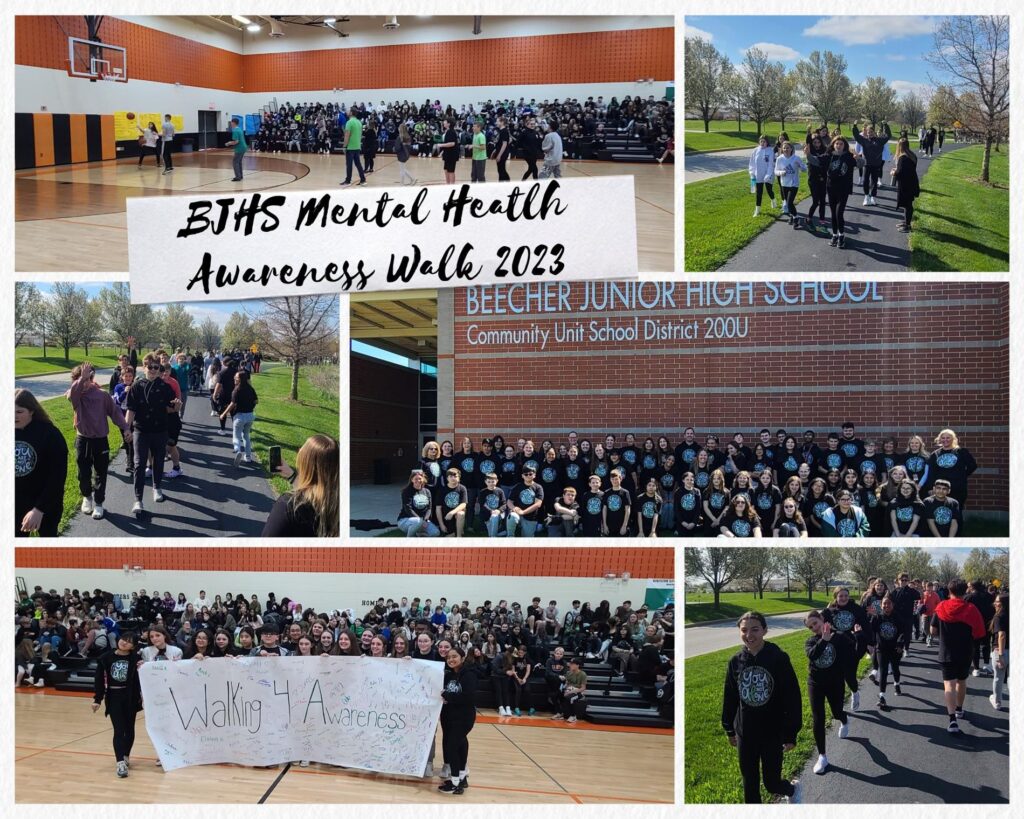 Beecher Junior High School Mental Health Awareness Walk
In May 2023, students at BJHS organized a Mental Health Awareness Walk in recognition of Mental Health Awareness Month.  The morning of a half-day was spent walking and spending time together as a school community.  In addition to participating in the walk, students were encouraged to purchase a t-shirt and collect donations.  All monies raised from the event went toward supporting Elyssa's Mission!  We are inspired by BJBS students' efforts to prioritize mental health and so grateful to the BJHS community for helping us bring SOS programming to even more new schools!
We had a long week with SOS!  It was good and very purposeful, but long!  We ended up calling SASS and accompanying a 6th grade student to the hospital on day one.  We also had multiple students talk to us and share concerns for this student.  Exactly what we asked them to do!  I think this is the first time I have hospitalized a student as a direct result of SOS.  

We also followed up with a record number of students because of the screener, mostly 6th grade students.  Many interesting conversations were had--talks of coping skills and how to better support the students in school.  Many students were looking for an outlet to just talk, share, and process. 

As always, thank you for your support throughout the SOS process.  
Thank you so much for helping us get the SOS program to our students. It may have saved a life of one of our students! The parents we talked to were all very thankful for this program and to bring to light some things that could help them help their teens.
Westlake Christian Academy
The SOS materials really help set the stage for such a good experience (and great discussions) while presenting in the classroom, and then we have such a good foundation for the students we get to follow up with. We so appreciate being able to work with you so that we can offer SOS to our students!
Thanks so much for your ongoing support, feedback and guidance throughout this process! It definitely feels good knowing we now have students on our radar we may have otherwise been unaware of, and that we may have reached students we may not even know about! We look forward to our ongoing collaboration! 
One of our parents we met with today for her child who was identified as being high-risk said something to the effect of, "Thank goodness for this program the school did today because without it, we would have never had any idea about how she's feeling." Thank you for all your organization does to support suicide awareness/education for our schools.
As a result of the SOS program, we did end up having one kiddo hospitalized but parents were so thankful for this program to help identify this because they had no idea their child was suicidal.  I had two other parents also thank me for having this program because they themselves wouldn't have known how their kids were feeling or thinking.
Bourbonnais Upper Grade Center
Thank you for your on-going support regarding SOS!  We are grateful this program has helped us identify students in need of support.  I definitely believe SOS has helped us provide more early intervention and preventative services, resulting in an overall decrease in the number of high-risk students and SASS calls. 
I felt our students really valued the lessons and activities and I think the deliberate pace and small groups allowed for a lot of great discussions. I also feel it allows students to connect with social workers, as those who did not know us got a chance to meet and hear from us. Thank you for your time and support with this program! 
We are really seeing the number of identified students decline as we do this program every year. We had some really important issues arise due to the screener- so we are happy that we are helping students that would normally fly under the radar. Thank you for everything!
I wanted to thank everyone at Elyssa's Mission who were instrumental in making yesterday happen.  Our freshmen were engaged in the conversation, and I had received great feedback from our parents when the initial invite/passive permission form went out. Thank you for holding our hand the entire way and getting us started yesterday.  You were great in taking the lead and showing us how to run the class.  I have 100% faith that we can lead this group moving forward thanks to your leadership. Your organization does great work and I am glad that we could further EM's goal of educating young people on mental health.  I look forward to working with you in the future.
These results truly underline the importance of prioritizing our students' health and well-being.  It's one thing to say our students need support and quite another when you have the data to support that claim.  We appreciate you coming to campus and working with our fantastic kids.  It's nice to hear feedback about our organization, as we worked to implement your suggestions from earlier in the year.  Please let us know if you have any other observations we may benefit from.  I look forward to our continued partnership.